Estuary Books is pleased to offer an online ordering service for our published books.  All orders are processed securely using PayPal.  Orders are sent via standard mail free of charge anywhere in the world.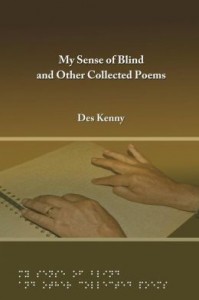 My Sense of Blind and Other Collected Poems – Des Kenny €7.00
Desmond (Des) Kenny, winner of Ireland's Christy Brown Award for Poetry, in 1981, has been writing poetry on and off for the past 40 years.  He  has been fitting those creative moments in between the busy schedule of running Ireland's leading advocacy agency for blind people, NCBI (The National Council for the Blind of Ireland) of which he was Chief Executive Officer from 1986 to his retirement in 2014.
His poetry draws on his sense of blindness and how that has placed and defined and delineated him in society, in family, in love. It deals with the "otherness" occasioned by his losing his sight at the age of seven, being separated from family and the familiar locale of his childhood Newbridge, Co. Kildare — lovingly recalled in Malone's Gate, Picking Mushrooms and Mosaic.
They deal also with the "walled garden" of institutional life and the vicissitudes of negotiating the concerns and expectations of a sighted world, into which he had to emerge, brave and new. The poems are formal, lyrical moments from the perceptions of a blind person making his itinerary around the ambits, tangents and difficult circuits of a world that challenges and is challenged, by the honesty of a blind poet, and made more aware by his insights."